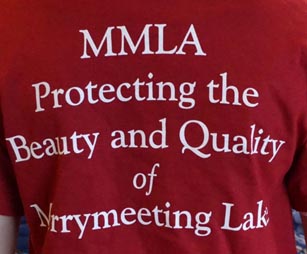 Last year's roadside cleanup was a tremendous success, with
nearly 50 volunteers participating and collecting more than 20
bags of trash!
Bring your family/friends and neighbors to participate in the MMLA
Annual Roadside Cleanup on Sunday, May 26, 2019 (Memorial
Day Weekend).
Please join us at 9:00 a.m. at Meetinghouse/Cove Cottages for
complimentary coffee and donuts. Plastic bags and gloves will be
provided for collecting trash and recyclables. Volunteers will be
assigned sections of Merrymeeting Lake Road, South Shore
Road, and North Shore Road.
In appreciation of your participation in this important community
activity, volunteers will each receive a MMLA t-shirt! Let's clean up
the roadside together and protect our lake environment
for all to enjoy.